The standards NFF 16-101 and NFF 16-102 serve to classify the non-metallic materials which are used in rolling stock applications with regard to flammability, smoke development and toxicity in case of a fire.

The requirements for these connectors are derived from several factors such as the type of train, the frequency of tunnels it passes through and the mounting location of the connectors.

From its broad range of DIN 41612 / IEC 60603-2 connectors ept can offer C and F types with insulator material that meets the high requirements of NFF 16-101 / NFF 16-102.
Other types are available on request.


Within NFF 16-101 / 102 ept´s connectors are classified per flammability and smoke development: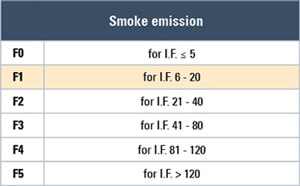 By combining both the result is shown in the diagram below:
The white fields denote the combinations needed to meet aforementioned requirements.

Reduce your development time and simplify an intense approval process by using our wide range of connectors which are already approved for these applications.

Talk to us about your connector applications!